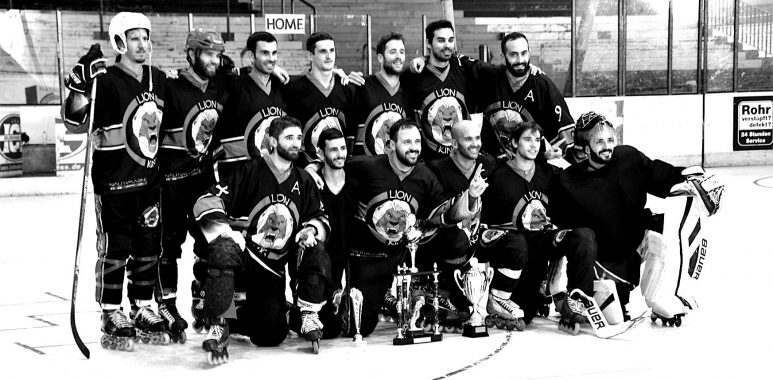 (EN) 2018 Oktoberfest has a winner
We're very happy to congratulate Les Oliviés (FRA) for winning the 2018 Oktoberfest inline hockey tournament powered by ISC Mannheim. The french beat the Outcasts (GBR) in the final last Sunday to take their first win in our tournament.
Group stage matches 2018 Oktoberfest
Ten teams decided to participate in the 2018 tournament edition. We had a lot of intense and exciting matches in the group stages, where each team was fighting for the first two spots. At the end, Les Oliviés (FRA) and Team Germany made it to the semifinals winners round in group A, the quadRats and the Outcasts (GBR) advanced in group B. Team True Sweden (SWE), HC Laupersdorf (SUI), Bourge-lés-Valence Hockey (FRA) and ERV Kaiserslautern made it to the losers round semifinals.
Elimination Round
The first game on Sunday has taken place between Sportiek Spins (BEL) and Bex' Bunnys and Friends to play for place 9. Bex' Bunnys went for the win (6-2). Directly afterwards the semifinal winners round startet with a match between quadRats and Les Oliviés. The Mannheim home team lost against a very strong french team (4-1). The Outcasts (GBR) have won the second semifinal against Team Germany (5-1). Losers round semifinals have been won by HC Laupersdorf (SUI) and Team True Sweden (SWE).
Placement matches and final
The second team who has taken a final placement where ERV Kaiserslautern who saved 7th with a win over Bourge-lés-Valence Hockey (FRA). Afterwards, HC Laupersdorf (SUI) saved place 5 by winning against Team True Sweden (SWE). The match for claiming the minimum price money went to the quadRats, they've beaten Team Germany 5-1.
Ready to take the final match between Les Oliviés (FRA) and the Outcasts (GBR). A very exciting match takes place early afternoon at Friedrichspark Stadium. The french started very well and got in front by three. The Outcats have been willing to come back into the game, but they didn't manage to score more than once due to a very good french goalie being in the vein. At the end, Les Olivés have won the final 4-1 and lifted the cup for the first time.
We hope everybody had a save trip home and we hope to see you soon.
Click here for complete results: Complete matchup and tables